Who We Are
We are a team of industry veterans who have joined together to provide smaller to medium-sized BRANDS with what ALL of their dealers insist on...Just-In-Time U.S. Inventories.
Our expertise and track record is with consumer electronic products, especially HOME, MOBILE and PROFESSIONAL loudspeakers. In addition to former top management positions with high profile CE companies, we now independently coordinate design, engineering and production for well known industry brands. We now also stock in U.S. warehouses, distinctly engineered Just-In-Time UNBRANDED...Ready 2 Brand products.
Our management team includes high profile consulting engineers as well as experts at offshore sourcing and production management...We can even offer terms to established participants.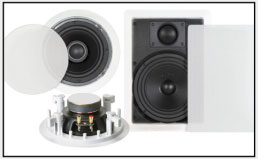 Our team also owns significant patented designs, some of which have already been highly reviewed by leading publications such as "SOUND&VISION", and "stereophile", and websites including CNET and Audioholics. We have permission on a royalty basis to offer these designs and products to our Key Dealer SELECT and BRAND NAME participants.
BRAND NAME participants.
The initial BRAND NAME participants have already successfully shared numerous products over the past several years, thereby reducing minimum production run commitments. However, the productions were all ordered 90 days in advance and capitalized separately by each of the participants.
The BREAKTHROUGH for our NEW concept is investor CAPITALIZATION for U.S. inventories of UNBRANDED products from which participants can pull, label, and pay for inventory as needed.
Questions?
Do you have questions regarding our services or capabilities? Check out our FAQ page
for clarification.